We offer many types of luxury vacation rentals to you
Luxury Vacation Rental Condominiums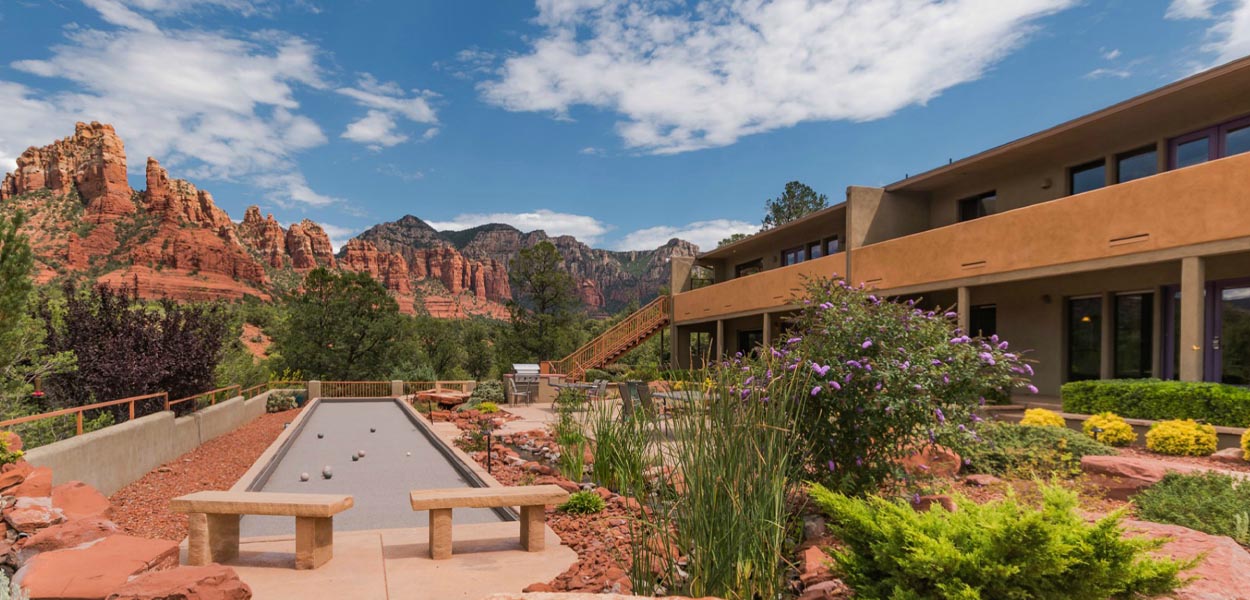 grounds feature an enchanting man-made red rock waterfall and creek running between a bocce court and furnished garden patios with BBQs. Simply relax, dine and soak in the beauty of the world-famous red rock vistas. Enjoy Sedona's night skies and sparkling lights in uptown, while relaxing beside our cozy stone fire pit.
3-Bed, 3-Bath Luxurious Uptown House,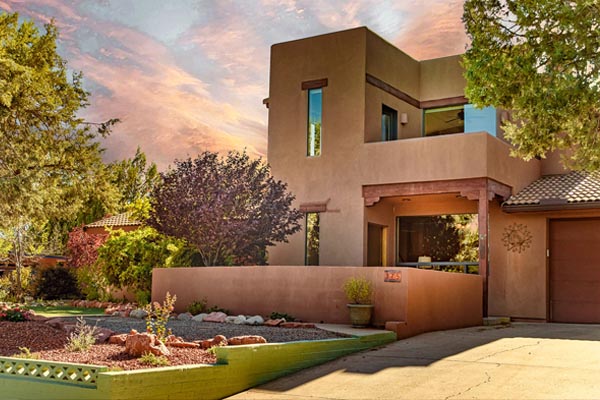 Boasting 2,750 square feet of entertainment space with beautiful views of Snoopy Rock. The open concept floor plan makes the living area spacious and enjoyable whether it is a retreat for 2 people, a small group or a family gathering. The tall trees surrounding the home give the feeling of seclusion and privacy, while remaining within walking distance to bustling Uptown Sedona. The home is conveniently located close to art galleries, boutiques, a variety of restaurants, and, of course, sightseeing, hiking and biking.
Uptown Artist Cottage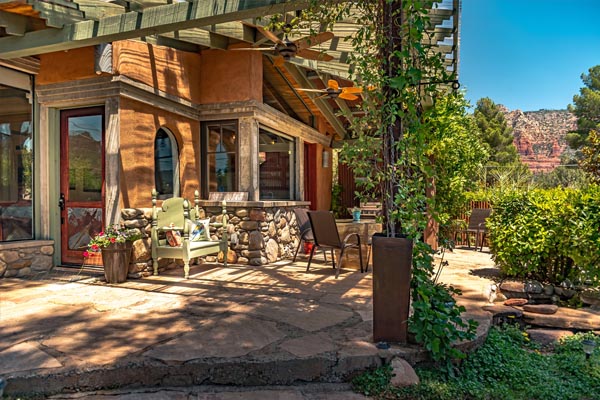 (sleeps 6-7) is located in a quiet neighborhood in the heart of Sedona and next to breathtaking Oak Creek Canyon. Our spacious 1400 sq ft completely renovated luxury three-bedroom home offers guests a one-of-a-kind vacation rental experience with Red Rocks views. A combination of vintage chic, southwestern lore, and eclectic urban fun. You will be delighted around every corner with intriguing design elements by a well-known local builder and the owner's love of creating a space for guests to feel at home. Exposed brick walls, faux painted walls, Mexican terracotta floors, high ceilings with stained wood beams, timeless artwork on walls, decorative light fixtures throughout, all creating a cozy and unforgettable stay. Character abounds at UPTOWN ARTIST COTTAGE!
Mountain View Cottage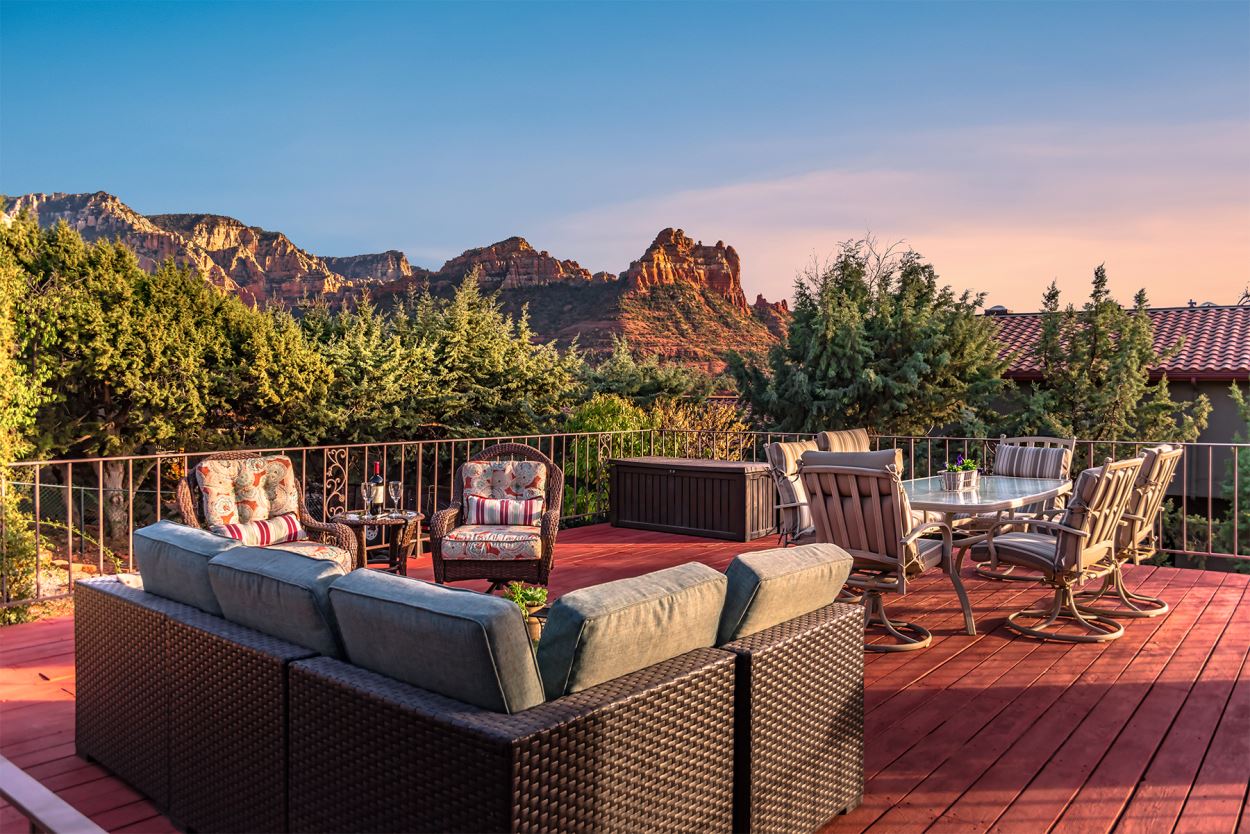 A beautiful 1,150 sq.ft. 2-bedroom 2-bathroom Mountain View Cottage is conveniently located in the Uptown district of Sedona. This home is comfortably suited for 4-5 guests. Enjoy daytime red rock views and starry night skies. A fully furnished outdoor patio offers space to dine and lounge and enjoy the splendor of the Arizona high desert with Sedona's renowned red rocks as the backdrop.
Sedona Uptown Suites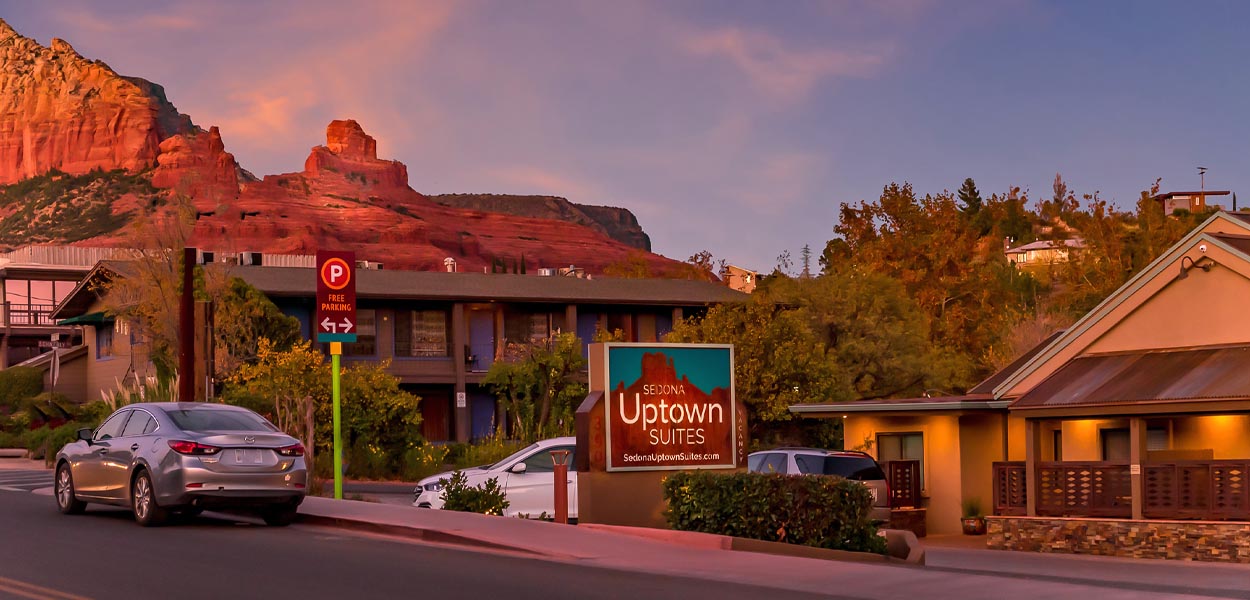 Our Uptown suites are conveniently located near Main Street Sedona (HWY 89A) where you will find all your shopping and dining indulgences. Or enjoy a scenic drive through Oak Creek Canyon (your gateway to the Grand Canyon), featuring colorful red rock formations, enchanted forests, overlooks, trout fishing, apple orchards, swimming holes and endless miles of trails for hiking and biking.The newly renovated SEDONA UPTOWN SUITES is located at 390 Jordan Road, Sedona, Arizona, 86336. We offer eight luxury suites in the heart of Sedona's shopping district, perfect for individual travelers, groups, or families. Located in vibrant and historic Uptown Sedona, next to Oak Creek Canyon and near the area's best shopping, dining, art galleries, and recreational activities. For your enjoyment, our relaxing courtyard offers a custom natural stone cascading waterfall with changing LED lights, gas firepit, gas BBQ, shade sails, and comfortable patio furniture. All suites feature keyless entry to allow for simple and convenient self-check in.
Uptown View Villas offerluxury monthly vacation rental villas
ALL with red rock views.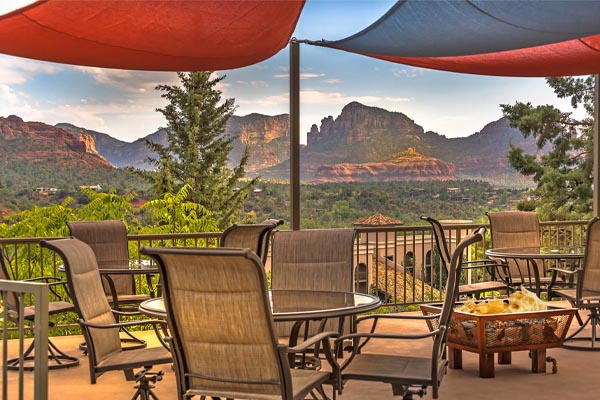 Enter a secluded enclave in the heart of Uptown Sedona. A quintessential Sedona getaway, just a short stroll from popular Uptown Sedona Main Street. Enjoy daytime red rock views and starry night skies at Uptown View Villas. Relax with a glass of wine or a favorite cocktail on the 'Snoopy Terrace' at sunset and enjoy a close up view of Sedona's main attraction–red rock formations 'neath clear blue skies. In clear view are: Camelhead Rock, Snoopy Rock, Lucy, Wilson Mountain, Thumb Butte and Cathedral Rock. Stunning morning and sunset views from your private deck or our view terrace provide a peaceful location for a cup of coffee to plan your day of active or leisure activities.

}